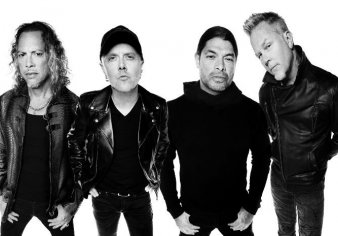 thrash metal, metal, heavy metal
Ik ben fan
Metallica tickets 2017 in Nederland
Andere concerten van Metallica
| | | | |
| --- | --- | --- | --- |
| 22 okt | The O2 | London, GB | |
| 24 okt | The O2 | London, GB | |
| 26 okt | Hydro Arena | Glasgow, GB | |
| 28 okt | Manchester Arena | Manchester, GB | |
| 30 okt | The NEC Birmingham | Birmingham, GB | |
| 01 nov | Sportpaleis Antwerpen | Antwerpen, BE | |
| 03 nov | Sportpaleis Antwerpen | Antwerpen, BE | |
| 01 feb | Pavilhao Atlantico | Lisbon, PT | |
| 03 feb | WiZink Center | Madrid, ES | |
| 05 feb | WiZink Center | Madrid, ES | |
| 07 feb | Palau Sant Jordi | Barcelona, ES | |
| 10 feb | Pala Alpitour | Torino, IT | |
| 12 feb | Unipol Arena (ex Futurshow Station) | Casalecchio di Reno, IT | |
| 14 feb | Unipol Arena (ex Futurshow Station) | Casalecchio di Reno, IT | |
| 16 feb | SAP Arena | Mannheim, DE | |
| 27 mrt | Jyske Bank Boxen | Herning, DK | |
| 29 mrt | o2 World Hamburg | Hamburg, DE | |
| 31 mrt | Wiener Stadthalle | Wien, AT | |
| 02 apr | O2 Arena | Prague, CZ | |
| 05 apr | Papp László Budapest Sportaréna | Budapest, HU | |
| 07 apr | Hanns-Martin-Schleyer-Halle | Stuttgart, DE | |
| 09 apr | Hanns-Martin-Schleyer-Halle | Stuttgart, DE | |
| 11 apr | Palexpo | Genève, CH | |
| 26 apr | Olympiahalle München | München, DE | |
| 28 apr | Krakow Arena | Cracow, PL | |
| 30 apr | Arena Leipzig | Leipzig, DE | |
| 02 mei | Telenor Arena | Fornebu, NO | |
| 05 mei | Ericsson Globe Arena | Stockholm, SE | |
| 07 mei | Ericsson Globe Arena | Stockholm, SE | |
| 09 mei | Hartwall Arena | Helsinki, FI | |
| 11 mei | Hartwall Arena | Helsinki, FI | |
Past Metallica gigs
| | | | |
| --- | --- | --- | --- |
| 16 sep | Lanxess Arena | Köln | |
| 14 sep | Lanxess Arena | Köln | |
| 12 sep | Halle Tony Garnier | Lyon | |
| 10 sep | Palais Omnisports de Paris-Bercy | Paris | |
| 08 sep | Palais Omnisports de Paris-Bercy | Paris | |
| 06 sep | Ziggo Dome | Amsterdam | |
| 04 sep | Ziggo Dome | Amsterdam | |
| 02 sep | Royal Arena | Copenhagen | |
| 16 aug | Commonwealth Stadium - Edmonton | Edmonton | |
| 14 aug | BC Place Stadium | Vancouver | |
| 11 aug | Custom House Square | Belfast | |
| 09 aug | Qwest Field | Seattle | |
| 06 aug | Petco Park | San Diego | |
| 04 aug | UNIVERSITY OF PHOENIX STADIUM | Glendale | |
| 29 jul | Rose Bowl | Pasadena | |
More Metallica past gigs
de laatste foto's van Metallica
Bevestiging van het laatste nieuws, geruchten en opstelling van Metallica .
16 jun

Alabama Shakes Continue to U.S. & Canadian Concerts to 2015 'Sound & Color' Tour.

Everyone, especially us here at 5gig.com, was excited to hear what Alabama Shakes had in store musically following the whirlwind of success behind debut southern-style rock album, Boys & Girls.While, they came right back at us with a dose of southern rock, but one much more all ove...

02 jun

Lollapalooza 2015 Aftershows Announced Including The War on Drugs, Gary Clark Jr., Alt-J, OMAM, Tyler the Creator, Many More!

Lollapalooza is set to invade the vibrant city of Chicago, Illinois with yet another diverse group of musician, which can be seen with the English/American, classic/metal/indie rock headliners Paul McCartney, Metallica, and Florence and the Machine.Full lineup and ticket options.In...

26 mrt

Paul McCartney, Metallica, Florence and the Machine to Headline Lollapalooza 2015. Full Lineup Revealed.

After seeing a headlining cast of Arctic Monkeys, Calvin Harris, Childish Gambino, and Skrillex last year, Lollapalooza 2015 is coming right back at us with another diverse (and English-heavy) lineup!Along with several other massive late-summer North American festivals, Lollapalooza ha...

05 mrt

Rock in Rio USA Announces Phase 2 Lineup with Detroit Rapper Big Sean, Plenty of Dance Music!

Excitement, anticipation, and the line-up for the first-even Rock in Rio festival on North American soil keep on growing. Spread over two weekends, and between a rock and pop weekend, the Vegas event is bringing some of the biggest names in today's music scene to as it turns the City of ...
Reacties
Reactie verstuurd!
Er zijn nog geen reacties geplaatst. Plaats de eerste!