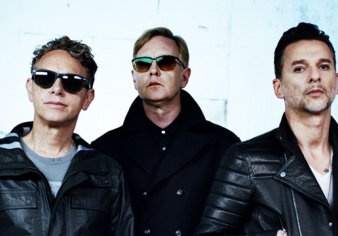 electronic, new wave, 80s
Ik ben fan
Depeche Mode tickets 2017 in Nederland
Andere concerten van Depeche Mode
| | | | |
| --- | --- | --- | --- |
| 21 okt | Key Arena | Seattle, US | |
| 23 okt | Moda Center | Portland, US | |
| 25 okt | General Motors Place | Vancouver, CA | |
| 27 okt | Rogers Place | Edmonton, CA | |
| 11 mrt | Foro Sol | Mexico City, MX | |
| 13 mrt | Foro Sol | Mexico City, MX | |
| 16 mrt | Parque Simón Bolívar | Bogotá, CO | |
| 18 mrt | Foro Sol | Mexico City, MX | |
| 21 mrt | Estadio Nacional Julio Martínez | Santiago, CL | |
| 24 mrt | Estadio Único | La Plata, AR | |
| 27 mrt | Allianz Parque | São Paulo, BR | |
Past Depeche Mode gigs
| | | | |
| --- | --- | --- | --- |
| 18 okt | Hollywood Bowl | Hollywood | |
| 16 okt | Hollywood Bowl | Hollywood | |
| 14 okt | Hollywood Bowl | Hollywood | |
| 12 okt | Hollywood Bowl | Hollywood | |
| 10 okt | ORACLE Arena | Oakland | |
| 08 okt | SAP Center at San Jose | San Jose | |
| 06 okt | Sleep Train Amphitheatre Chula Vista | Chula Vista | |
| 02 okt | Santa Barbara Bowl | Santa Barbara | |
| 30 sep | Las Vegas Arena | Las Vegas | |
| 27 sep | Cricket Wireless Pavilion | Phoenix | |
| 24 sep | Cynthia Woods Mitchell Pavilion | The Woodlands | |
| 22 sep | Superpages.com Center | Dallas | |
| 20 sep | Austin360 Amphitheater | Austin | |
| 18 sep | Ascend Amphitheatre | Nashville | |
| 15 sep | American Airlines Arena | Miami | |
More Depeche Mode past gigs
de laatste foto's van Depeche Mode
Bevestiging van het laatste nieuws, geruchten en opstelling van Depeche Mode .
09 okt

Optimus Alive (Nos Alive) Dates Set, Tickets on Sale Now!

Lisbon, Portugal's Optimus Alive, now know as NOS Alive, has been gaining steam since it's first edition in 2007, especially over the last two years.In 2013 the crowd was treated to a rock-heavy set of headliners including Green Day, Depeche Mode, and Kings of Leon. Always full of Po...

21 mrt

Depeche Mode's 'Delta Spirit' World Tour Heading to North America in August, September, October. New Album 'Delta Machine Out March 22nd.

Tomorrow (March 22) is the big day for Depeche Mode, as their new album, Delta Machine, is set to hit stores across North America. Delta Machine represents the thirteenth studio album from the Essex-based new wave group, and the follow up to 2009's Sounds of the Universe. (Watch the band ...

13 feb

Top 10 Radio Stations to Listen To on World Radio Day.

At work, in the car, even at home, we spend countless hours a day listening to the radio, but it seems like each time they're full of more commercials and "filler" music. We miss the days of turning on the radio and learning about new bands, discovering great songs, and having a soundt...

17 jun

The Kooks en Madrid y Barcelona en el mes de octubre

Tras su paso por el festival SOS 4.8, la banda de Brighton, The Kooks vuelven a nuestro país en concierto. En concreto estarán presentando su último y tercer  trabajo, 'Junk Of The Heart' que verá la luz el próximo 13 de septiembre. Disco que sin duda, promete, teniendo en cuenta que...
Reacties
Reactie verstuurd!
Er zijn nog geen reacties geplaatst. Plaats de eerste!